Pinterest is addictive, right?  I have found a long list of projects that I hope to complete one day.  I have also found Etsy stores that I love to browse.  One popular project on Pinterest is button art.  Have you ever entered the key words "button art" in the Pinterest search button?  If you do, you will find amazingly creative projects, and I'm guessing that you'll find something by Letter Perfect Designs on Etsy.  When I was pregnant with Monkey, I asked Peggy at Letter Perfect Designs to make me a wall hanging for the nursery.  I love how it turned out.  It's a variation of this one that is listed in her Etsy Shop: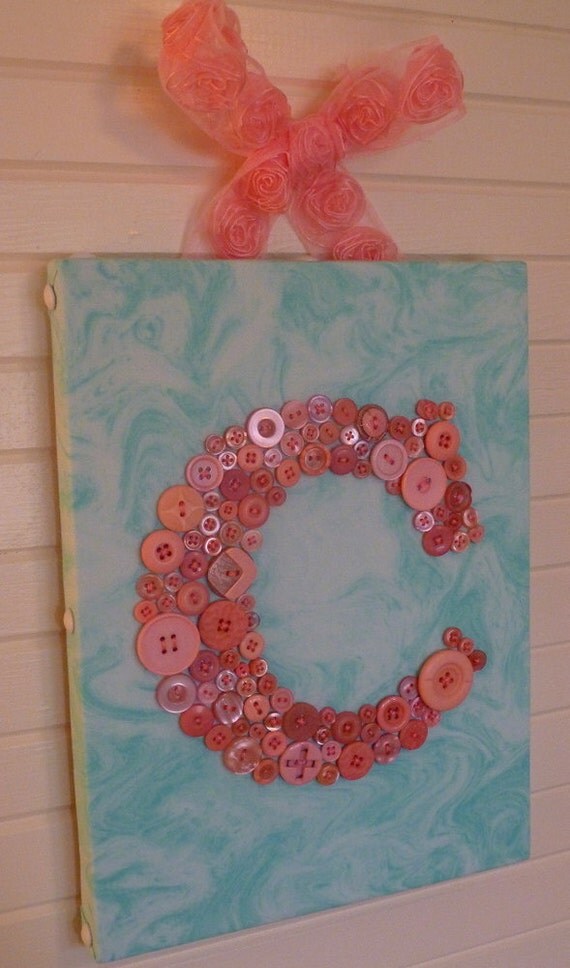 I've admired that project for months now, and I thought I would experiment and try to make a throw pillow that included a button design on the front.  I thought that I should probably try my hand at a pillow design.  I took a piece of canvas and drew a series of concentric circles placed inside of the square.  I used buttons that were colors that went with my other family room pillows.  (If you are interested in where I purchased the buttons, I found a great seller on Etsy.  Her turnaround is very fast!)
I started sewing one night while watching an episode of the Vikings, and 3 episodes later, I was nearly done.  I knew that the design wasn't perfect, so I went back to it the next evening, and tinkered with it, adding buttons here and there.  Once I was satisfied with the design, I made sure that the larger buttons were tightly sewn on.  I figured that in my house with pillows being climbed on, chewed on and tossed about that the buttons needed to be securely attached!  Then I ironed interfacing onto the back of the design.
I finished up the pillow by sewing the decorative square to 4 strips of red flannel to make the front of the pillow.  I used two separate pieces of the same fabric to make the back, and made a simple envelope pillow design.  I pretty happy with how the final product turned out.  I'm going to try to make another project with buttons in the near future.  I've learned that I need A LOT more little buttons compared to medium and large buttons.  I also learned that placing the larger buttons first was the best way to go. If you don't use them first, you'll never be able to find a place that those cool, oversized buttons will fit.
While I'm quite pleased with my first creation, Monkey is obsessed with this pillow.  He loves to touch, pull, and taste all of the buttons.  It's a great tactile experience for him.
Have you ever made any button art?
I'm sharing this project at: